Pedals for Progress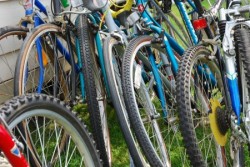 Bicycle, Sewing Machine and Sports Equipment Collection
Saturday, June 11, 2016
9am to 12noon
Flemington Presbyterian Church
10 East Main Street – Flemington, NJ
Please join us for another Collection fat the Flemington Presbyterian Church. Items to be collected include Used Bicycles (adult and child), Used Sewing Machines (in working condition) and Sports Equipment (soccer balls, baseball gloves, etc. that can fit in the shipping containers between the bikes). The collection is sponsored by the Flemington Presbyterian Church and the Rotary Club of Flemington.
Bikes will be sent to Guatemala, Nicaragua, Albania, Ghana, Uganda and Vietnam. Please help do your part to put unused bikes to good use in the developing world.
Requirements:
– Bikes should be rust free.
– Bikes with flat tires in need of some repair are accepted.
– No trikes.
-"Bikes for parts" are not accepted.
A $10 cash donation is required with each bike or sewing machine. Bikes and donations are cash deductible. The required cash donation helps to offset the cost to ship the bikes to the developing countries.
Pedals for Progress, also known as P4P, collects 5000 to 7000 bicycles annually and transfers this material wealth to those more needy. Thus rescuing bicycles destined for America's landfills and delivering them to societies where they are badly needed and highly valued. To date, more than 133,500 bicycles have been shipped to developing countries in Latin America, Africa, and Eastern Europe. In these countries, the bikes are reconditioned by partner agencies and distributed at low cost to poor working adults. These bikes provide them with reliable transportation for commuting to work, transporting produce to market, or accessing health care and other services. Steady employment for these adults is vital to the development and success for these economies.
It costs $40 to collect, process, ship, rebuild and distribute each bicycle. The required $10 donation helps to offset the shipping costs. P4P is a 501(c)(3) corporation and a registered charity in the states of NJ, PA, NY, CT, IA & VT. Brochures explaining this innovative program will be available at the collection site. P4P also seeks donations of wrenches for our oversees shops. For detailed information about our overseas projects and a current schedule of bicycle collection, visit the P4P website at www.p4p.org.
If you miss this collection date, you can locate other bike collections through the Pedals for Progress website: www.P4P.org
Thanks to all who have participated and donated!