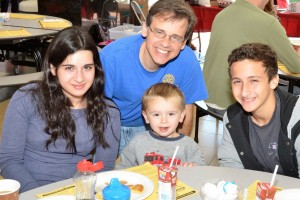 The 39th Annual Pancake Day was a great day!!!  It was held on Saturday, October 26th in the Commons at H.C.R.H.S.  The event ran from 7am to 1pm, along with Halloween High School from 10am-12noon and a Flu Shot Clinic from 9:15 to 11:30am.
Click Here for the Event Photo Album.  A special thanks to the Rev. Dr. Herb Bohler for taking the photos and generating the album!!!
A very special thanks to Darren Loew and the Committee for an excellent job!  President Ira also wanted to personally thank all Rotarians and friends who helped to make this Pancake Day & Kids Expo a wonderful event!
800 Meals Served!  Darren reported that we served about 800 meals, which included 88 take-out orders for Flemington Car & Truck Country (40 for Ford and 48 for Chrysler).
34 Flu Shots & 9 TDAP Shots Given!  Terry Ownes reported that the Flu Shot Clinic gave out a total of 34 Flu Shots and 9 TDAP Shots.  TDAP is a combination vaccine that protects against three bacterial diseases:  Tetanus, Diphtheria, and Pertussis (whooping cough).
Category: Uncategorized