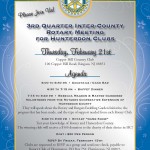 The Flemington Rotary Club will be hosting the 3rd Quarter Inter-County Rotary Meeting for Hunterdon Clubs on Thursday, 2/21 from 6-9pm at the Copper Hill Country Club.  Click Here to download the Flyer including the evenings agenda.  Additional details are included below.
Location:…….. Copper Hill Country Club, 100 Copper Hill Road, Ringoes, NJ 08851
Date:…………… Thursday, February 21st
Time:………….. 6pm to 9pm
Cost:…………… $30 per person
RSVP by:……. Friday, February 15th
RSVP to:…….. Clubs are requested to RSVP as a group and send one check, payable to the "Rotary Club of Flemington", PO Box 751, Flemington, NJ 08822.  Contact person is Bob Chittenden at Tel(908) 284-9040 x104 or bchittenden@jarengineering.com.
Category: Uncategorized