The following is the letter that President Karen sent to the Rotary Club of Aberdeen, MD on January 7, 2013 in response to their $2500 donation for Hurricane Sandy relief: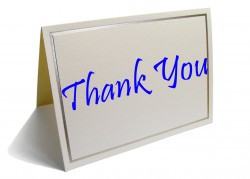 Dear Fellow Rotarians:
I am writing on behalf of the Rotary Club of Flemington to express our sincere thanks and gratitude for the Aberdeen donation of $2,500 to assist families that were impacted by Hurricane Sandy. Rest assured that your donation had a meaningful and significant impact in the lives of many families. Flemington Rotary Club unanimously voted to match your donation, so we jointly contributed $5,000 to families in need.
We reached out to organizations that assist families such as the Family Success Center, the Interfaith Outreach Council, and Family Promise to identify those in need. In total, we helped over 20 families with food replacement, damage to property and the like. In the words of one family, "it is so heartwarming to know that people cared about our loss and your help made our lives much easier."
The donation of your Club gave us the idea to "play if forward", so the Flemington Rotary Club has approved $5,000 to go to two South Jersey Clubs to assist families in that area. We are also encouraging other Hunterdon County Clubs to consider doing the same.
Once again, our warmest thanks.
Yours in Service,
Karen A. Widico – President, Flemington Rotary Club
Category: Uncategorized