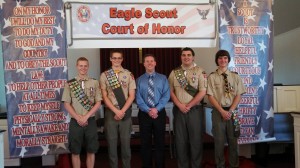 On Saturday, June 29, 2013, the Rotary Club of Flemington presented an Eagle Scout Certificate of Achievement to four (4) young men of Troop 1969 who have earned the Boy Scouts of America's (BSA) Highest Rank: Eagle Scout.  The Eagle Scout Court of Honor took place at the Stanton Reformed Church in Stanton, NJ.
Certificates, on behalf of Flemington Rotary and the International Fellowship of Scouting Rotarians, were presented to Lyell S. Buttermore, Erik T. Ferenczy, R. Tucker Gaccione and Kameron M. Ginder.
The ceremony included recognition of the attaining of the Eagle Scout Rank.  A demonstration of commitment, achievement, leadership and service.
We in Rotary share many of the same values as Scouting: among them, a vision for a better world, honorable dealings with our fellow man, and service to others – in the same way Scouts promise to serve their country, their fellow Scouts, and those in need.
Rotary, like Scouting, is world-wide.  Our motto is Service Above Self, which a Scout may describe as "To help others at all times".
A gift was also presented to the parents of each Eagle Scout, which was an art print signed by the artist himself, Joseph Csatari. Mr. Csatari has been the BSA's official artist since 1977, following Norman Rockwell.
A special thanks to District Governor Nominee, Hal Daume, for generating the Presentation package and making all of the arrangements for the presentation to occur.  Hal helped Rotary District 7510 start this program in July 2009. Since then, over 450 Eagle Scouts have been honored in similar ceremonies.
Pictured Above (from left to right):  Lyell S. Buttermore (Eagle Scout), Erik T. Ferenczy (Eagle Scout), Bob Chittenden (Flemington Rotary), R. Tucker Gaccione and Kameron M. Ginder.
Category: Uncategorized