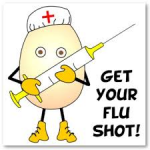 FLU SHOT CLINIC
Sunday, September 15, 2013
9:00 am to 12:30 pm
Flemington Jewish Community Center
5 Sergeantsville Road – Flemington, NJ 08822
The Rotary Club of Flemington will be assisting in a Flu Shot Clinic on Sunday, 9/15.
Upcoming Dates and Locations:
Sunday, September 15, 2013 9am – 12:30pm
Flemington Jewish Community Center
5 Sergeantsville Road, Flemington, NJ
Tuesday September 17, 2013 9:30am – 10:30 am
Our Lady of Lourdes Church
390 County Road 523, Whitehouse Station, NJ
Wednesday, September 18, 2013 4:00pm- 5:30pm
Lower Valley Presbyterian Church
445 County Road 513, Califon, NJ
Saturday September 21, 2013 9:00am – 12:30pm
Clinton Fire House
Main St, Clinton, NJ
Sunday, September 22, 2013 9:00am – 11:30am
St Edward's Parish,
61 Mill St, Milford, NJ
FLU KILLS. HUNGER DOES TOO. FIGHT BOTH WITH ONE SHOT!
Dr. Ronald Frank and Dr. Sean Cook have partnered with the Rotary Clubs of Hunterdon County, to donate 100% of the clinic profits to the Hunterdon County Food Pantries, to help feed those in need.
Who should get a flu shot?
The CDC recommends everyone 6 months of age and older should get a flu vaccine this season. It's especially important if you are at high risk of developing serious flu related complications. High risk groups include, everyone under the age of 5 years or over age 65, people with chronic medical conditions such as asthma, diabetes, heart and lung disease.  In addition the flu shot is highly recommended for anyone who is pregnant or plans on being pregnant during the flu season. It is also recommended for anyone who lives with or cares for others who are high risk of developing serious flu-related complications.
In addition to the traditional Flu Vaccines, Preservative-free Injectable and Nasal Spray Flu Vaccines will also be available.
 
No co-pays or deductibles are required for participants with most major insurances. We are unable to accept insurance plans that require you to list a primary care physician on your card or NJ Family Care/Medicaid. Please present all insurance cards at the clinic. For those without insurance, or plans that Green Brook Family Medicine does not participate with, the flu vaccine cost is $20 for the injectable, and $30 for the Flu Mist nasal spray.
 
The 5 Rotary Clubs of Hunterdon County, Clinton Sunrise, Flemington, Lambertville, North Hunterdon and Whitehouse are made up of professional and business people dedicated to serving their community. The objective of Rotary is to encourage and foster the ideal of service as a basis of worthy enterprise.  
 
The partnership with Dr. Frank and Dr. Cook provide the Clubs an opportunity to bring both health services through the Flu Clinic and to support our common goal to fight "Hunger in Hunterdon."  "By bringing the clinics to different locations throughout the County we are able to better serve our citizens,"  commented Dr. Ron Frank, honorary member of the Clinton Sunrise Rotary.
 
In addition to the proceeds from the vaccination program, non-perishable food donations will be accepted for local food pantries at each location.
 
The Clinton Clinic has an expanded service with participating partners such as The Crime Stoppers of Hunterdon, the Safe Communities Coalition, The Town of Clinton Police DARE program, and The Hunterdon County Sheriff's Department who will have their kid id program available and will collect expired and unused prescriptions. The County Health department will do free blood pressure screenings and have other health related information on hand.
 
"This community service event started over fifteen years ago in the Clinton Sunrise club and has now expanded to all five clubs. We are proud to be able to bring this community event to the residents of Hunterdon County and of the events' expansion with all five clubs, stated Lynn Arnold, Rotarian, Clinton Sunrise club.
 
For additional information please call Green Brook Family Medicine at 732-356-0266. Tune into the Rotary internet radio show on Monday Sept.16th at 11am to hear Dr. Ron and Lynn talk about the clinics. www.hunterdonchamberradio.com
Protect yourself and your family from the flu. Protect your neighbors from going hungry.
To learn more about rotary go to www.rotarynj.org
Category: Uncategorized