Craft Beer Tasting, Music & Food

Join us for the 3rd annual Flemington Rotary BeerFest! Come sample more than 60 beers from 30 Breweries. Tickets are limited. Click the link below to buy your tickets today.

Contact:
Ira Liebross – Event Chair
Beerfest@FlemingtonRotaryNJ.org
When:
Saturday, October 19, 2019
VIP Session:  12noon to 1:00pm
General Session:  1:00pm to 4:30pm

Where:
Nex Level Arena
426 Case Boulevard
Flemington, NJ 08822
Cost:
VIP Session:  $50.00
General Session:  $40.00
Designated Driver:  $10.00
Download & Print the Event Forms:
**2019 Promo Card coming soon
**2019 Sponsorship Form coming soon

Main Sponsor:

Live Music Sponsor:
Porta-Potty Sponsors:
There will be Live Music by the band SunDog to enjoy and plenty of beverages to taste!  Also, food will be available to purchase.
Attending Breweries:  CLICK HERE to view the list of breweries that attended our 2018 event!  In addition to a variety of craft beers, we also have a select few spirits and wines to taste.
Food Vendors:  We will have several food vendors providing temping food for you to purchase during the event.
Indoor Event Location:  The event will take place indoors at the Nex Level Arena, located in Flemington, NJ.  The indoor event location allows for an awesome time, independent of any weather that we have outdoors!  A limited number of tickets will be offered in two different tasting sessions.
The VIP Session will take place between 12noon and 1:00pm.  Admission to this session will allow participants to enjoy the event with an early entry time and with a smaller group of people.  This means shorter lines and time to taste more beers without waiting.  All participants that enter the event during the VIP Session are allowed to remain for the General Session.  A limited number of VIP Session tickets will be sold.
The General Session will take place between 1:00pm and 4:30pm.  A limited number of General Session tickets will be sold.

We will be selling Designated Driver tickets to those that would like to attend the event, but will not be drinking.  Designated Drivers will receive a special color wristband and will not receive a tasting glass.  They are able to enjoy all the activities of the event, except they are not allowed to drink any beer or other alcoholic beverages.  Any designated driver who is seen drinking will be escorted out immediately.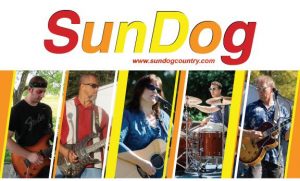 We will have Live Music by the band SunDog!  SunDog has been rocking the NJ tri-state area since 2004 with shows packed with good-time music from the 1960's through today.  They cover many genres of music including Classic Rock, 1980's Rock & Pop, Country and Southern Rock.  They also write and perform their own original music, including their original "Pretty Face".
The event is Rain or Shine.  No refunds.
If it rains, tents will be provided.
Rules & Regulations:
All participants must be 21 or older to be admitted.  This includes Designated Drivers.


Everyone is required to present a valid drivers license (or Photo ID) in order to enter the event.  We will check identification of everyone entering the event.

Tickets are required for all attendees.

NO children, no babies, no pets, no chairs and no firearms.

Shirts and shoes are required for all participants.

We reserve the right to check all bags.

Photos and Videos will be taken during the event for promotional purposes.  By attending the event, you give us permission for us to take photos and videos of you.
Frequently Asked Questions (FAQ):
All participants will receive one (1) tasting glass for sampling.  Replacements cost $5.00 each.

This is a sampling event.

NO outside alcohol is allowed to be brought into the event.


You may bring bottled water into the event.  NO other beverages allowed.

NO outside glassware or food is permitted.  Food will be available for purchase.

NO beer will be sold.  Beer samples are included with your ticket admission.

Designated Drivers do not receive a tasting glass.

Designated Drivers are NOT allowed to sample any beer.
Conduct Expected of Participants:
Don't drink and drive!!!  Be safe, designate a driver before attending.  Consider using Uber, Lyft or a taxi service.


We reserve the right, at our discretion, to remove any participant(s) from the event for inappropriate behavior.  You will be escorted out of the event by security and not allowed back in.

All exits are final!  Once you leave the BeerFest grounds, you may Not re-enter.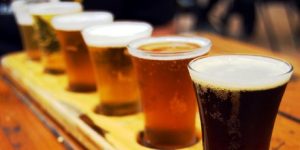 Ticket Sales:  Tickets are being sold online through our online ticket vendor.  See the link above to purchase tickets while they last.
Facebook Page:  To follow the latest updates about the Flemington Rotary BeerFest, Click Here to visit our Facebook page.
Other Flemington Area Attractions:  While you are in Flemington, why not check out some of our great restaurants, businesses and other attractions.  Click Here to visit Explore Flemington for more information.
Disclaimer:  All is subject to change without notice, including the attending breweries and food vendors.
PHOTO ALBUM Links:
2018 BeerFest Sponsors:
Live Music Sponsor – $1500
Porta-Potty Sponsors – $1000
Gold Sponsors – $500
Silver Sponsors – $250
Bronze Sponsors – $100
Awesome Nails

Dr. David Wunder, Chiropractic Physician


Massage Envy


Platform One Restaurant

Professional Tax Consultants

The PuChitts

Skowronek Family

Stem Brothers, Inc.

Treeline Farm & Landscaping