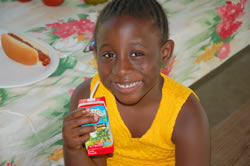 Fresh Air Fund
Began in 1877
Flemington Rotary Partnership – 1931 through 2009
Second oldest service project for the Flemington Rotary Club
In 1877, a minister from a small parish in Pennsylvania created a fund to allow disadvantaged children to spend a summer in the country. These children lived in crowded tenements in New York City and suffered from a tuberculosis epidemic. The recommended treatment was "fresh air", and so began this program. From a few needy children that first year, this fund has benefited over 1.7 million kids to date. The funds tradition of caring provides children with a much-needed respite from the inner-city streets. Thousands of youngsters enjoy summer vacations with volunteer hosts in the country.
The Flemington Rotary Club partnered with the Fresh Air Fund in 1931 to help these children and has continued to do so every year since then. This is our second oldest service project. Each year many of our Hunterdon County families reach out as volunteer host families and the Flemington Rotary Club funds a Fresh Air Picnic for the children to enjoy. How would you like to help?