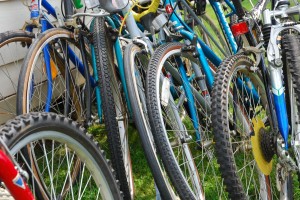 The 2014 Pedals for Progress collection was held on Saturday, May 31 at the Flemington Presbyterian Church.  Joe Ziegler reported that the collection yielded 42 bicycles, 2 sewing machines and $480 in cash donations.  The annual collection is sponsored by the Flemington Presbyterian Church and the Rotary Club of Flemington.
Joe noted that these bicycles will be sent to Guatemala, where they will make a positive impact on the lives of people we will never meet.
A special thanks to the Flemington Rotarians that assisted in the collection:  Joe Ziegler, Sandy Clark, Darren Loew and his daughters and President Ira Liebross.  There were also several volunteers from the Presbyterian Church that lent a hand.  Thanks also to Ira for bringing doughnuts for everyone to enjoy!
CLICK HERE to view the Event Photos and online article from NJ.com, which was published by the Hunterdon County Democrat on 5/31/14 at 11:08am.
Category: Uncategorized