3rd Annual Flemington Rotary BeerFest
Indoor Event Location: 
The event will take place indoors at the Nex Level Arena, located in Flemington, NJ. The indoor event location allows for an awesome time, independent of any weather that we have outdoors!  A limited number of tickets will be offered in two different tasting sessions.
VIP Session 12 noon to 1:00 pm:
Admission to this session will allow participants to enjoy the event with an early entry time and with a smaller group of people. This means shorter lines and time to taste more beers without waiting. All participants that enter the event during the VIP Session are allowed to remain for the General Session.  A limited number of VIP Session tickets will be sold.
General Session: 1:00 pm and 4:30 pm:
A limited number of General Session tickets will be sold.
Designated Driver Tickets
We will be selling Designated Driver tickets to those that would like to attend the event, but will not be drinking.  Designated Drivers will receive a special color wristband and will not receive a tasting glass.  They are able to enjoy all the activities of the event, except they are not allowed to drink any beer or other alcoholic beverages.  Any designated driver who is seen drinking will be escorted out immediately.
Days Left to Purchase 100th Anniversary Tickets!
General Event Information
Conduct Expected of Participants:
Don't drink and drive!!!  Be safe, designate a driver before attending.  Consider using Uber, Lyft or a taxi service.
We reserve the right, at our discretion, to remove any participant(s) from the event for inappropriate behavior.  You will be escorted out of the event by security and not allowed back in.
All exits are final!  Once you leave the BeerFest grounds, you may Not re-enter.
Rules & Regulations:
All participants must be 21 or older to be admitted.  This includes Designated Drivers.
Everyone is required to present a valid drivers license (or Photo ID) in order to enter the event.  We will check the identification of everyone entering the event.
Tickets are required for all attendees.
NO children, no babies, no pets, no chairs and no firearms.
Shirts and shoes are required for all participants.
We reserve the right to check all bags.
Photos and Videos will be taken during the event for promotional purposes.  By attending the event, you give us permission for us to take photos and videos of you.
Frequently Asked Questions (FAQ):
All participants will receive one (1) tasting glass for sampling.  Replacements cost $5.00 each.
This is a sampling event.
NO outside alcohol is allowed to be brought into the event.
You may bring bottled water into the event.  NO other beverages allowed.
NO outside glassware or food is permitted.  Food will be available for purchase.
NO beer will be sold.  Beer samples are included with your ticket admission.
Designated Drivers do not receive a tasting glass.
Designated Drivers are NOT allowed to sample any beer.
About Flemington Rotary BeerFest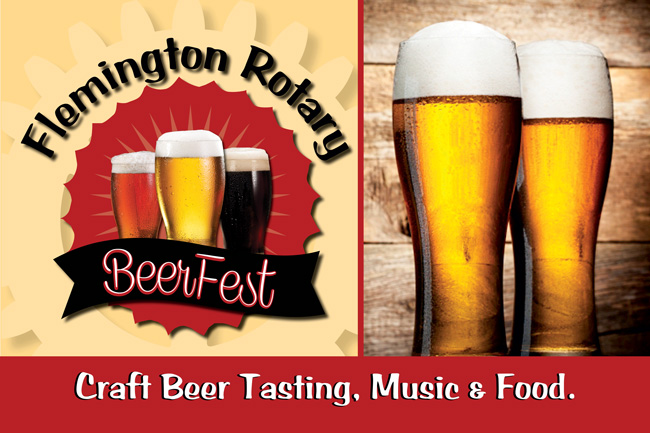 The Flemington Rotary Beerfest is a Charitable Fundraising Event. 100% of the Net Proceeds raised will benefit the charitable projects of the Rotary Club of Flemington, which includes Scholarships for Hunterdon Central Regional High School (H.C.R.H.S.) and Hunterdon County Polytech Career & Technical School Graduating Seniors.
VIP Session:  $50.00
General Session:  $40.00
Designated Driver:  $10.00
VIP Session:  12noon to 1:00pm
General Session:  1:00pm to 4:30pm